This is the first of a few posts where I will profile some boats that I like. These are from internet searches as I demonstrated in the last post. I filtered through the big list of search results to find those that are off-shore, blue-water boats that can handle anything and take me anywhere. It also needs to be in decent shape so I don't have to spend more than 100% of the purchase price on re-fitting it. I cross checked each of these boat manufacturers with other references and here I will summarize how I feel about them. I'll make some sort of rating matrix for all of the boats once I profile a few; because I'm a nerd :) Today I am profiling a 1968 Cheoy Lee Luders 36' yacht. Luders are on my list of sea worthy boats at 33' and above. The boat listing profiles it well, so this will be an easy one:
Fuel: Diesel Hull Material: Fiberglass Beam : 10'3" Max Draft: 5'3" Dry Weight: 15000 Horsepower (total): 36 Fuel Tank 40 Length at Waterline : 25 Holding Tank Yes Water Tank 80 Engine Hours 1700 Designer Luders
Erick's Comments: All of the numbers look good. Heavy boat, able to take a beating. I have yet to work out the ratios that I am looking for, but that 15,000 pound weight is a positive. Traditional style cruising numbers. Good storage for water and fuel. Big enough engine.
Description A solidly built boat, there have been numerous Cheoy Lee's that have circumnavigated. The knowledgeable and experienced owner has kept the vessel in a seaworthy condition. This is an opportunity to own a well-built vessel that is affordable and durable. There are no blisters or leaks in the deck, and the deck has no soft spots.
Erick's Comments: Hell yeah can't beat that. I just wonder what a good survey would find.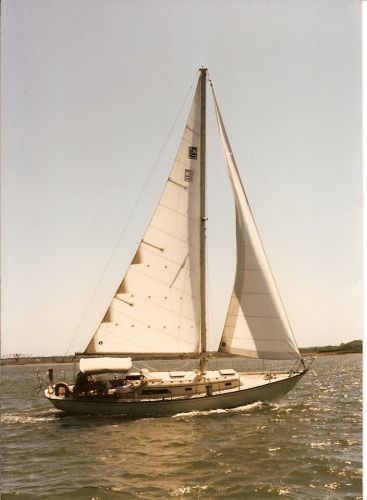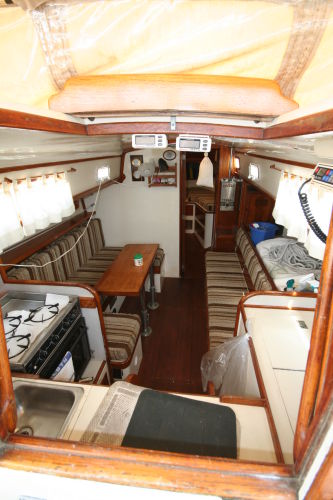 The traditional layout of this vessel has proven to be the basis for many classic boats. The forward cabin accommodates two adults on the V berth. The main salon area can accommodate two adults on the port berths, after converting the dinette to a double berth, and the starboard side can sleep two, one on the settee and one on the pilot berth. The head and shower are to port, between the forward cabin and the salon. Sleeps 2 adults in V berth Sleeps 2 on convertable dinette Sleeps 1 on settee Sleeps 1 on pilot berth Head and shower forward, behind fwd cabin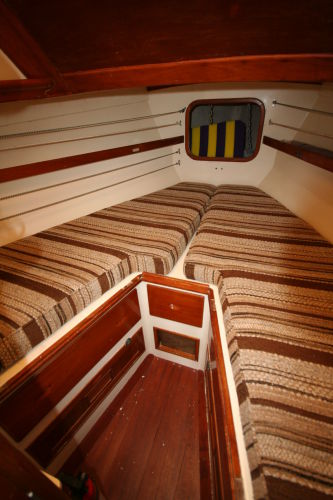 Erick's comments: The accommodations are just as I would want. V-berth is a must, 2 settees is a must, and a pilot berth is a big plus. The v-berth would be used as the main bed while at anchor or dock. At sea it will be used as storage. The motion in the peak of the boat is a little too much at sea to have a really solid sleep. The settees will be used as sea berths. I reckon I could use a pilot berth as possible surf board storage. Plenty of room for guests at anchor or for a few people at sea.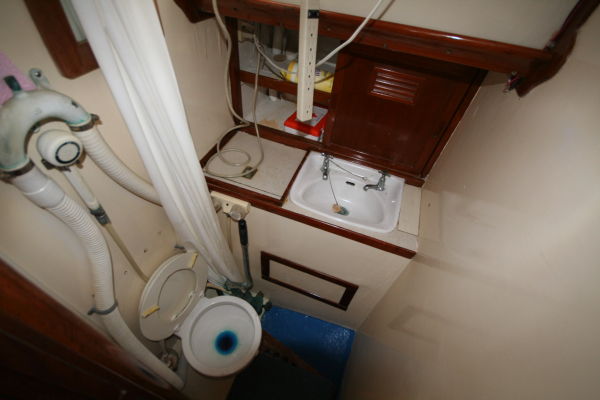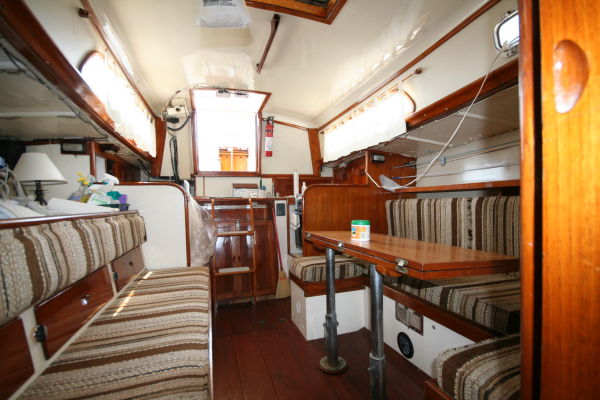 Galley The galley consists of an icebox that has been refrigerated with a Sea Frost system (2003), a Princess propane stove (2003), a sink with hot and cold water, and lockers for storage. Sea Frost refrigeration - 2003 Princess 3 burner propane stove - 2003 Hot/cold water Hot water heater Trident solenoid control
Erick's comments: Looks good. Newer equipment, big plus. A 3 burner propane stove is what I am looking for, not alcohol. I could probably deal with 2 burners though. Hot/cold water is great for when I live-aboard, but I might not have it while at sea due to power issues...but that would be decided well into the future. Another big plus is that the sink is near the center line, that way it will drain at all angles. A lot of boats lack that feature.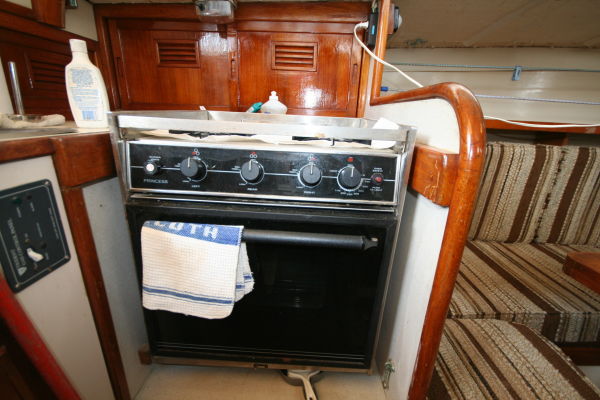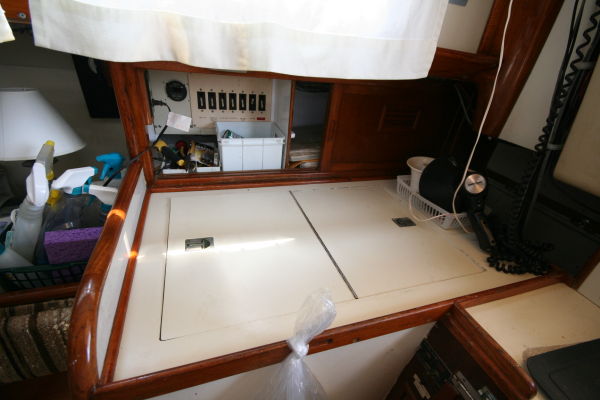 Apelco VXL 5110 VHF Radio Standard Horizon Speed Log Standard Horizon Depth sounder Simrad Autopilot - 2003 Bilge alarm
Erick's Comments: looks good here. I am leaning towards wanting a wind vane as my primary auto pilot. But if a boat comes with an electric auto pilot, I will use a wind vane as a backup.
Electrical The electrical systems aboard are simple and functional. There is a 12 volt system for the boat while underway, as well as 110 volt shorepower for dockside. 90 A H/O Balmar alternator - 2000 Shore Charger - 2000 4 X 6 v batteries in series - 2006 30 Amp shore power umbilical Link 20 battery monitor
Erick's Comments: Looks powerful, more so than I had intended on at sea. Need to research what it would take to charge this puppy with solar panels and maybe a wind generator.
Deck and Hull The deck plan is simple and enhances the classic and traditional lines. The aft cockpit gives one a complete perspective of the boat, and makes for easy control. The wide deck makes going forward easy, and the lifelines and stanchions are high enough to ensure one's safety. There are two pipes for ground tackle at the bow, as well as two cleats. There are a two anchors on the bow, a Bruce and a Fortress. There is a third anchor as backup.
The genoa is on a Profurl furling system, which makes for easy handling of the headsail. The furling line runs to the cockpit on the starboard side. The main is slab reefed, and the mainsail cover was new is 2005. The Bimini was new in 2005, and the dodger was replaced in 2006.
The spars are aluminum, and are rigged with Sta-Lok terminals. The mast is stepped. There are 4 winches in the cockpit, and the mainsheet purchase is behind the helmsman. There is a swim ladder off the stern, and an outboard mount off the port pushpit. Ventilation is provided via three dorades, one in the stern and two on the deck, one on either side of the mast. New bimini/dodger New main cover Slab reefed main Spinnaker Profurl furler Swim ladder 3 anchors-Fortress, Claw and Danforth Four Barient winches in cockpit 3 Dorades Stepped mast Sta-Lok terminals Deck-stepped mast
Erick's Comments: Loaded with newer gear. Everything seems ready for a cruise. Will need minimal refitting, but a survey will tell all. All in all I like this boat a lot. It looks clean, well kept, and sea worthy. It's also on the large end of my range at 36 feet, plenty to carry surfboards. The immediate con's of this boat are that it is on the very high end of my boat budget. They are asking $24,900; but maybe I could haggle them down. I wouldn't mind paying that much for a boat that wouldn't need too much refitting. Another con is that it is in South Carolina, but that isn't nearly as far as some of the boats. That wouldn't be too hard of a first long sail to get it here, especially because I wouldn't have to go around the Outer Banks, a very dangerous passage. This boat ranks high in my book.